Labor is probably the most controllable cost you will incur. The restaurant expert.com lists the following guidelines to stay on top of your restaurant labor costs.
7 Must do's to control labor:
Check that your staff are not clocking in to soon.
Make sure staff is not riding the clock.
Audit your timekeeping to ensuring your staff is not clocking in under wrong codes.
Audit sales every hour.
Schedule staff according to sales.
Avoid overtime at all costs
Make selection and training a priority.
Below is an example of real time reports provided by Maitre'D and Smart POS to provide you with complete labor information: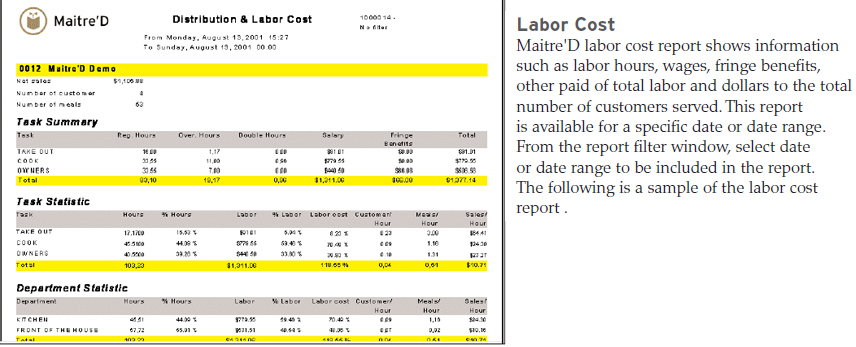 These are just two of several real time reports available standard in Maitred POS to assist restaurateurs with making effective labor decisions to boost their bottom line.
Maitre'D POS also provides 2 ways for you to obtain this information when you are not at your restaurant:
Maitred's Data board will send email alerts to you when labor reaches a pre determined condition (% of sales, #of hours)
Maitred Mobile app will provide you with real time sales and costs on your smart phone.
Smart POS and Maitred have been effectively assisting restaurateurs with managing their labor costs and boosting their bottom line all across North America.
Call 303-309-1218 or email us to schedule a demo.