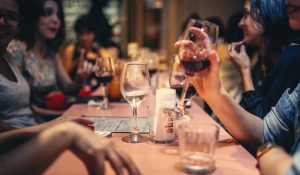 What are secure tableside payments? Will they help you run your hospitality business better? The introduction of chip cards to prevent card present fraud has presented a compliance challenge for restauranteurs. Compliancy states that to be in compliance during a credit card payment transaction, the card must not leave the customers hand. So how does a table service restaurant become compliant without having your customer get up from their table and go to the payment device?
Smart POS along with Maitre'd Restaurant Point of Sale and Secure Table Pay is now offering the ability to have restaurant guests pay their bill securely and efficiently at the table.

Not only are you able to be fully chip card compliant, you are also able to provide a solution that reduces your service staff's steps and minimize mistakes.
Below is a comparison of the traditional payment process versus secure table pay:
TRADITIONAL PAYMENT PROCESS:
Server takes final bill to guest.
Server walks away.
Guest reviews bill and places credit card in check presenter.
Guest waits impatiently for server to return.
Server returns to retrieve check presenter with bill and credit card.
Server walks to pos station to process payment.
Guest waits impatiently for server to return.
Server returns with the receipt.
Guest inputs tip amount and signs receipt.
Guest leaves.
Server comes back to the table to retrieve receipt.
Server takes receipt and enters tip adjust at pos station.
SECURE TABLE PAY SOLUTION:
Server takes final bill and payment device to guest.
Server pulls up bill directly on the payment device, guest reviews the bill and enters and enters the tip amount.
Guest inserts the card, receipt is printed, payment applied and table closed.
Guest signs the receipt.
Guest leaves.
Server retrieves the signed receipt and payment device, no further reconciliation is needed.
The above comparison demonstrates the efficiency and security compliance that is achieved with Smart POS, Maitred Restaurant Point of Sales and Secure Table Pay.
Show your customers and employees that you take their payment security and prompt service seriously by contacting Smart POS today to discuss your needs.